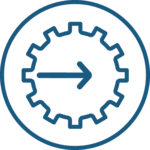 ARE YOU HAVING TROUBLE MEETING YOUR MISSION GOALS WITH LEGACY SYSTEMS?
Technology is progressing faster than ever, and there is increasing pressure to modernize, transform, and optimize your IT enterprise. Are your legacy systems hindering your ability to keep up with changing business demands?
Let us help. We modernize systems to improve service delivery to the public, secure sensitive systems and data, and increase overall operational efficiencies.
We take a business-informed, citizen-centric approach to digitally transforming and modernizing our customers' business processes, technology, and infrastructure. We harness modern software frameworks and agile practices like human-centered design, DevSecOps, Lean Startup, open-source software, 12-factor app, microservices, and cloud platforms to modernize your mission-critical systems.
Our services and platform support include:
Enterprise Modernization Strategy and Planning

Architecture, Engineering, and Prototyping

Agile Development and Implementation

Cloud Migration and Transition

Mainframe, SharePoint, Oracle Fusion Middleware, and Legacy System Modernization
Scrum, Kanban, SAFe, and DevSecOps

Agile Engineering, Test-Driven Development, and Test Automation

User Experience (UX) Design and Usability Engineering

Continuous Integration and Continuous Deployment (CI/CD) Pipelines
Intuitive and easy-to-use applications

Secure, scalable, and optimized digital processes

Decreased total cost of ownership (TCO)

Elevated mission capabilities
Our client conducts hundreds of audits each month and needed a solution to support the secure transfer of Personally Identifiable Information (PII) and other sensitive financial data in the cloud. Our agile team developed a working prototype in just eight days, saving the client millions. The solution was named by the agency as one of its top "2018 Innovations in Action." Learn why…