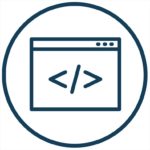 ACCELERATE IT MODERNIZATION TO DELIVER ON YOUR MISSION FASTER
Federal agencies are under significant pressure to quickly modernize. A few driving forces include the need to offer more services, learn new insights, decrease cyber threats, and keep pace with citizen's commercial experiences. Low-code solutions can significantly help agencies accelerate their modernization journey. Low-code platforms provide graphical user interfaces and configuration components to create new applications instead of developing traditional hand-coded custom applications. This new way of development can fast-track the deployment of advanced mission capabilities at a lower cost than traditional software development.
Pyramid successfully integrates low-code platforms into government environments and systems. Our low-code experts have the experience and ability to rapidly streamline complex government processes into leading-edge digital solutions that deliver intelligent automation and insights, increase user adoption, and accelerate your IT modernization efforts.
We codified an Agile/DevSecOps approach to build low-code applications that leverages our extensive software development acumen, vast government business process re-engineering experience, and low-code platform expertise.
Key features of our scaled approach include:
Maximize out of the box capabilities to deliver functionality with least amount of code

Micro-application architecture to enable development at scale across multiple teams

DevSecOps practices including automated testing, secure engineering, and continuous delivery

Hybrid solutions that securely integrate with back-end microservices, external storage, and other cloud platforms
Pyramid delivered a low-code solution in a matter of 3 months that significantly improved the user experience, and that expedited federal services to stakeholders.
Legacy Application Migration

System and Application Integrations

Operations and Maintenance

Modernizations and Enhancements
Accelerate faster digital transformations with minimal rework, while maximizing ROI

Empower clients to self-manage low-code applications

Enhance agency decision-making through greater insights

Improve user experience and adoption

Redeploy human capital resources through intelligent automation

Decrease risk and streamline IT governance
Pyramid created an online, centralized, one-stop-shop platform that citizens, lenders, and third-party service providers can use to more quickly, efficiently, and painlessly apply for loans and track the loan throughout the entire lifecycle.