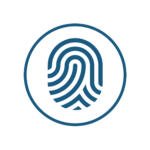 MASTERING HUMAN AND MACHINE IDENTITY
Identity management can mean different things depending on the mission, operating environment, maturity of the program, and data availability. At its core, identity management aims to establish uniqueness between different identity records and associate other data elements to those unique identities. Ideally, uniqueness is determined by the use of biometrics – such as fingerprints, face, or iris – but may be limited to biographic and other identifying information – such as name, date of birth, social security number, phone number, etc. These processes can occur for one-time collection/decision operations, ongoing maintenance and verification of permanent/official records of individuals, and everything in between. Usage of the information typically includes sharing with other stakeholders, particularly for matching against other databases and receiving additional information associated with that identity (i.e.: criminal history, personnel records, credit score).
Pyramid has substantial experience with identity management systems, having built and managed large mission-critical solutions and utilized and interfaced with local COTS biometric collection devices.
Pyramid's identity management staff consists of developers, architects, project managers, and a former government executive of DHS biometric and identity record systems, most of whom have over ten years of experience in the subject area. Our key principles to identity management solutions include:
We leverage mature software automation, data encryption, and efficient storage techniques.
We engineer faster processing, improved search, better overall security, and safe integration of systems to exchange biometric data. Our talented technologists are experienced in implementing and modernizing mission-critical biometric systems in the cloud and on-premise. Our services include:
Modernization Strategy and Planning

Architecture, Engineering, and Prototyping

Agile Development and Implementation

Cloud Migration and Transition

Mainframe, SharePoint, Oracle Fusion Middleware, and Legacy System Modernization

Artificial Intelligence (AI)/Machine Learning (ML)
Combining our knowledge and passion for identity missions with the technical prowess of agile, scalable, modern solutions is a formula for success.

Identity Management Insights
Pyramid created an online, centralized, one-stop-shop platform that citizens, lenders, and third-party service providers can use to more quickly, efficiently, and painlessly apply for loans and track the loan throughout the entire lifecycle.