Amazon Web Services (AWS) is the leading cloud service provider, supporting nearly every government agency in their cloud adoption. AWS offers Infrastructure as a Service (IaaS), Platform as a Service (PaaS), and packaged Software as a Service (SaaS). As an Advanced Consulting Partner and Public Sector Partner, Pyramid has delivered many innovative cloud solutions to our federal clients. We have 30+ AWS certified subject matter experts on staff to ensure we deliver cloud solutions that are exceptionally secure, scalable, and flexible. Our AWS offerings include:
AWS Cloud Migration Planning
AWS Cloud Architecture and Implementation
AWS General Support System
Cloud Native Development and Operations
Security and Compliance
Data and Analytics
Automation, Machine Learning and AI
Managed Cloud Services
Please see our AWS Practice webpage for more details.
Snowflake is a FedRAMP authorized platform that allows secure data sharing capabilities and near real-time data access. We are excited to have partnered up with Snowflake to deliver data based solutions to the government.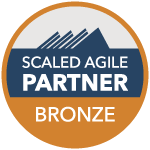 Scaled Agile, Inc. is the provider of Scaled Agile Framework® (SAFe®), the world's leading framework for business agility. Pyramid is a proud member of the Scale Agile Partner Network, and as a Bronze Tier Transformation Partner, we are uniquely qualified to advise and support government agencies through every phase of a Lean-Agile transformation. With multiple SAFe® Program Consultants on staff who are licensed to teach Scaled Agile courses, Pyramid continues to demonstrate its dedication to achieving successful customer outcomes.