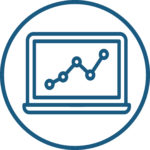 With increasing digitization of systems and processes, federal agencies grapple with the never- ending accumulation of data and metadata. This challenge is an opportunity for agencies to capitalize on their data assets and to help transform how they conduct business and inform public policy.
Let us help. We can build trustworthy data and analytical intelligence capabilities to help you make well-informed, evidence-based decisions that save lives, allow you to redirect resources more effectively, or improve citizen services.
We architect, engineer, manage, and machine-analyze your complex structured and unstructured data so you can uncover new insights that advance your mission. We employ data architecture and automation pipelines to create a continuously evolving data platforms for planned and exploratory analytics. Leveraging multi­dimensional self-service analytics tools, we produce visualizations and dashboards that reveal the hidden insights within your data.
Our strategies, tools, processes, and analytic approaches apply machine learning (ML) and artificial intelligence (Al) to predict outcomes, prescribe actions, and elevate the business of government.

Our services include:
Data Architecture and Engineering

Predictive and Prescriptive Analytics

Reporting and Visualizations

Self-Service Business Intelligence

Machine Learning and Artificial Intelligence
Natural Language Processing

Robotic Process Automation (RPA)

Chatbots and Intelligent Automation
Rational and data-driven decision making

Earlier trend detection and faster response times

Mitigation of business risks through augmented AI
Our client conducted numerous analysis pertaining to our economy via a legacy database that generated canned Statistical Analysis System (SAS) reports, which were satisfactory for basic users, but problematic for power users. We transformed the database's capabilities, enhanced user experience, and broadened reporting capabilities so now the data is easier to access and share, improving our client operations. Learn how…