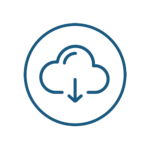 MOVING TO THE CLOUD DOESN'T HAVE TO BE SCARY
The fear of moving to the cloud is not unwarranted. Moving complex and large systems to the cloud is difficult. You have to know how to: set up the environment, prepare your applications, strategize what systems should be transitioned first, secure your data, and plan for maintaining the systems.
Let us help. Our cloud experts can guide you toward a successful transition to the cloud. It's not intimidating when you have an experienced partner to help.
We offer a step-by-step roadmap that leverages Cloud Smart guidance, for wherever your agency sits in the cloud journey. 
Our approach addresses all the unique challenges your agency will face. Your business objectives will dictate your cloud blueprint. Moving to the cloud can be an exciting challenge when you have a clearly defined strategy and an experienced partner.
Our services include:
Cloud Architecture and Implementation

Managed Cloud Operations and Services
Infrastructure as a Service (IaaS): AWS, Azure, and Google Cloud

Platform as a Service (Paas): Red Hat OpenShift, Pivotal Cloud Foundry, Cloud.gov, and Login.gov

Low-Code Platforms: Salesforce.com, Appian, and ServiceNow

Software as a Service (SaaS): Microsoft Office 365
Increased capability and performance at a lower total cost of ownership

Elastic architecture that is scalable and on-demand

Secure and highly available systems
Our client's public-facing website (.gov) provides critical financial information to stakeholders. The majority of the client's website was hosted on Cloud.gov except for the content authoring and publishing processes, which slowed down updates and increased error rates. We developed an integrated and secure application that automated the content publishing processes in Cloud.gov, which resulted in increased efficiencies and significant cost savings. Learn how…