Unconventionally, Pyramid reserves a seat at the executive table for a Chief Solutions Architect. Why? What are the benefits to having this presence at the top? What did it take to get there?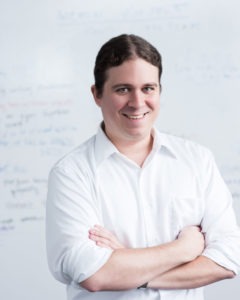 I joined Pyramid as a senior development analyst, having come from a much larger organization. Pyramid provided the opportunity I sought to work again with smaller groups and to have a bigger impact. What I didn't expect were two promotions in my first two years, resulting in the creation of the Vice President, Chief Solutions Architect position as part of the Pyramid executive team.
Right away, I was engaged in strategic conversations. What market spaces and technologies should the company pursue? Are there tools a customer should know about to improve their results? Lending a technical eye to these discussions helped us to quickly zero in on the best opportunities.
I also learned about the business side of our technology service business. Colleagues taught me about contracting and acquisition regulations. I learned about time tracking, accounting, profit and loss – the project management side of client relationships. As our executive team worked together to refresh the company brand and build out capabilities aligned with our vision, I came to appreciate the expertise across the team that helped us make successful strategic decisions.
When I accepted the Chief Solutions Architect role, I was concerned that I'd be distanced from the technical sphere. It's common for technologists to be forced to choose a non-technical path to get to higher levels in an organization. It was a scary prospect. But that hasn't happened. Pyramid purposely provided this path knowing the value of keeping my hand in coding and technology. Technologies change quickly, and we all want a fresh technology perspective readily available.
It's been a natural fit. My role today is an extension of what I was doing directly for customers. I encourage technologists who want to get involved in business to find ways to contribute to the business-related functions. Business development professionals, for example, rely on colleagues in technology and other specialty areas to support their activities every day. It's really just an application of one's technical skills to a new purpose.
I wouldn't have had this opportunity at a large company, where roles are more defined and specialized. In organizations like Pyramid, you can really get involved and contribute in meaningful ways. With access and responsibility, you can have an impactful, valuable experience.
Pyramid's decision to define the Chief Solutions Architect as a technology-based leadership role underscores the company's understanding that our people are key to our success. It's not just words. Pyramid really does have a commitment to its people and its customers and cares about tapping potential in a way that benefits employees and the company. If you want to stay technical but have a robust career potential, Pyramid is the place to be.
---
Mike Shields, Pyramid's Vice President, Chief Solutions Architect, oversees the translation of client business requirements into the architecture for those solutions, ensuring the most appropriate technology selection. He also serves on Pyramid's executive team, lending a technical expertise to strategic business decisions.
---
Media Inquiries
Email: info@pyramidsystems.com