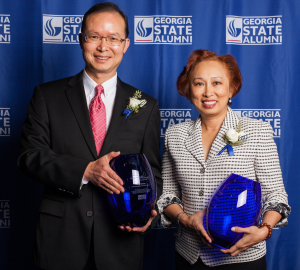 Fairfax, VA – Congratulations to Jeff Hwang, CEO & Co-Founder, and Sherry Hwang, President & Co-Founder, of Pyramid Systems, Inc., who were recognized with Distinguished Alumni Awards by the Alumni Association of Georgia State University at its 52nd Annual Distinguished Alumni Awards Gala on Friday, October 2, 2015.
In its tradition of recognizing the outstanding alumni of Georgia State University, this award honors alumni who have become acknowledged leaders in their respective industries, significant contributors to the improvement of their communities and have shown a committed record of service to the University.
In addition to a significant commitment to the technology consulting industry, the Hwang's are advocates for Asian Pacific American civic and business interests; are heavily involved in community service organizations such as the American Red Cross and the Tzu Chi Foundation; and have established a scholarship program at Georgia State University, to encourage young individuals to pursue technical innovation and entrepreneurship.
"We are very honored to receive this prestigious award and would like to share this award with all the international students who have graduated from Georgia State University," said Sherry Hwang, President & Co-Founder of Pyramid Systems and Jeff Hwang, CEO and Co-Founder of Pyramid Systems.
You may view a video created by Georgia State University and photographer Ben Rollins, documenting words from friends and community leaders here: https://vimeo.com/141561084 
---
About Pyramid Systems, Inc.
Pyramid Systems is a CMMI Development Level 3 provider of IT service solutions focused on mission-critical systems for federal clients. The company's core competencies involve all aspects of software development and Operations and Maintenance (O&M) using Agile or other methodologies across a wide variety of technologies.
---
Media Inquiries
Email: info@pyramidsystems.com