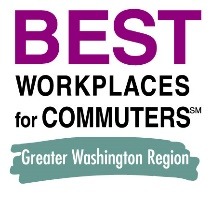 Pyramid Systems, Inc., a leading provider of software solutions for federal government clients, has been named a Best Workplace for Commuters which spotlights employers that meet the National Standard of Excellence in commuter benefits, a standard established by the U.S. Environmental Protection Agency.
Pyramid was one of 29 "Race to Excellence" winners who have exceptional commute programs, is committed to improving quality of life for commuters and saves employees time and money, while reducing traffic congestion and air pollution. Pyramid was specifically recognized for taking exemplary steps to offer transportation options such as transit benefits, telework, "hoteling" office space, virtual meetings, teleconferencing, and participation in the SmarTrip program.
"We are proud to make this commitment to our employees and to our community," said Eleni Antoniou, Vice President of Human Resources. "The Best Workplace for Commuters program demonstrates how the efforts of employers create a win-win for employees and a clean environment."
To see a full list of 2015 winners, click here: Best Workplace for Commuters 2015
---
About Pyramid Systems, Inc.
Pyramid Systems is a CMMI Development Level III provider of Information Technology solutions focused on mission-critical systems for federal clients.  The company's core competencies involve all aspects of the software lifecycle – including software development and O&M using Agile or other methodologies across a wide variety of technologies and tools.
---
Media Inquiries
Email: info@pyramidsystems.com