We live in a rapidly evolving digital economy that thrives on online and subscription-based lifestyles. Services like Amazon, Uber, Netflix, Twitter, and Venmo have become an integral part of our daily lives. These private enterprises made significant investments in experimental innovation that yielded new business models, digital practices, and technologies. Citizens are now expecting public-facing, digital technologies to be on par with commercial technologies. While the rate of adoption in new, transformative technologies is increasing across the Government sector, many agencies still struggle with legacy systems and processes. To meet citizens' needs and expectations, the government must become an active player in this modern digital world.
The U.S. federal government spends more than $80 billion each year on IT, but the Government Accountability Office notes that these investments frequently fail and contribute little to mission outcomes. Currently, the government invests in very expensive IT solutions without sufficiently testing their viability. Many technologies and digital concepts are prescribed as a one-size-fits-all approach that either doesn't work, is extremely costly, or takes too long to get into production.
With enormous pressure to modernize large legacy IT systems in a customer-centric way, we must ask, "What should be the strategy moving forward for federal agencies?" Rather than making risky, big bang investments in IT initiatives, federal agencies can leverage professionalized experimental innovation to validate technical approaches quickly and to cost-effectively discover new and transformational solutions.
Pyramid has professionalized innovation to deliver consistent results, reducing the time from prototype to production to scale in the most economical way. Pyramid Labs, our research and development, works with our customers and provides Lean Startup services to our customers at no additional cost. Our lab facilitates ideation, stakeholder engagement, distills high-value ideas, prototypes minimally viable products (MVP) in one to two months, and empowers our customers to discover emerging capabilities, validate feasibility, and better mitigate risk in future investments.
What Is Lean Startup?
Build, measure, and learn are three pillars of the Lean Startup methodology (first coined by Eric Ries in his book of the same name), which focuses on delivering value in short and frequent iterations and validating learning. Popularly adopted by startup companies, it is a risk-mitigating strategy for iteratively building business products and validating viability without incurring huge costs. Although failure is not desirable, it critically contributes to discovering pivots and rationalizes future investment. Many successful firms that we know of today, such as Netflix and Amazon, started out by doing something entirely different than their current business.
Lean Startup introduces critical agile thinking that can help transform how the government builds mission-focused solutions and manages IT investments. Pyramid Labs operates like a Lean Startup and partners with our customers and delivery teams from ideation to prototyping, reducing the cycle time to determine feasibility and next steps. In short one-to-three-month engagements, Pyramid Labs quickly determines what mechanisms are feasible for our clients' business and which are not, so they can pivot intelligently, making the most of their time and money.
How Does Lean Startup Work?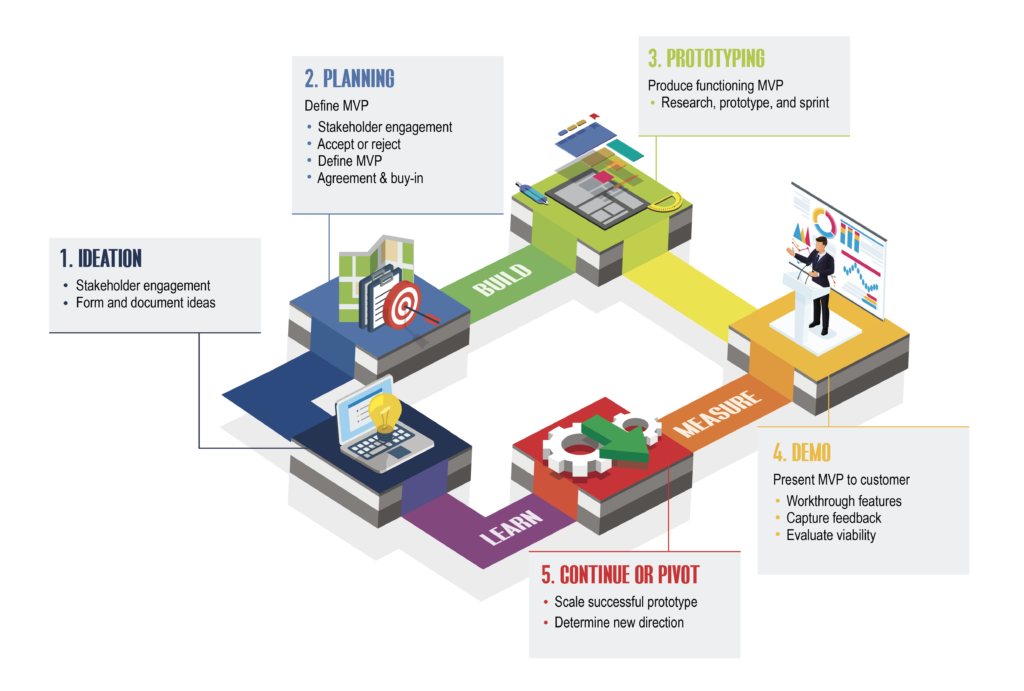 Benefits of Lean Startup
Validate Solutions to Reduce Technical Debt – Projects, especially IT projects, require substantial upfront costs, and there's no guarantee that additional costs won't be incurred along the way. With this service, customers can validate technical solutions before making huge investment decisions. If solutions are not validated, customers can choose to terminate the project or change direction without wasting their entire investment.
Advance Mission Capabilities – Only through innovation can the best possible solution be discovered. By engaging with stakeholders throughout the innovation process, customers can discover IT capabilities that truly advance the mission rather than just patching a problem.
Solve Problems Quickly – Innovation projects are meant to be short engagements so that problems can be mediated quickly. Solutions are continually being evaluated, so time isn't wasted on nonviable solutions, and the process is flexible so that direction can change at a moment's notice.
Mitigate Risk – When huge investments and failures are probable, this raises the stakes for experimenting with new technology. Innovation as a service is quick and requires low investment, making the risk much more manageable.
Create Additional Value – Some of the greatest advancements of our time were discovered by accident. Pyramid Labs not only provides solutions to current problems, but it could also discover technology that saves agencies millions in taxpayer dollars.
Real-World Lean Startup Success with Pyramid Labs
BUSINESS PROBLEM: The 2018–2019 government shutdown significantly impacted our client's mission-related work. During the shutdown, more than 1,150 housing contracts couldn't be renewed. Thousands of low-income Americans were at risk of being evicted from their homes. At the time, the housing contract renewal process was completely manual, with many repetitive steps, and more than 1,150 contracts weren't renewed.
SOLUTION: Pyramid Labs created a robotic process automation (RPA) bot that scans applications, servers, and databases and sends out a daily email status notification for any contracts expiring within 180 days.
RESULTS: The agency can more efficiently and accurately forecast expiring contracts to ensure that Americans won't be at risk of eviction if another government shutdown happens, therefore ensuring that critical mission work won't be affected.
Technologies Developed with Lean Startup in Pyramid Labs
Pyramid Lab solutions are built with reusability and transferability in mind. We build new technologies that will solve common problems experienced by multiple agencies. Current portfolio areas include the following:
Modernization Playbook: Accelerate your agency's digital transformation with a collection of proven methods, best-in-class technologies, best practices, and lessons learned to help intelligently guide your journey.
Software Factory Accelerator: Bring solutions to production faster with a toolkit that rapidly operationalizes secure cloud and DevSecOps ecosystems, enabling teams to build, test, and deploy software at scale.
Augmented Artificial Intelligence: Make better, more informed mission-critical decisions by leveraging machine learning and artificial intelligence predictive and prescriptive models available through cloud platforms like AWS and Azure.
Robotic and Intelligent Process Automation: Enable greater focus on high-value, mission-critical work by automating repetitive, human-intensive business processes.
---
For more information about Pyramid Labs, email labs@pyramidsystems.com.