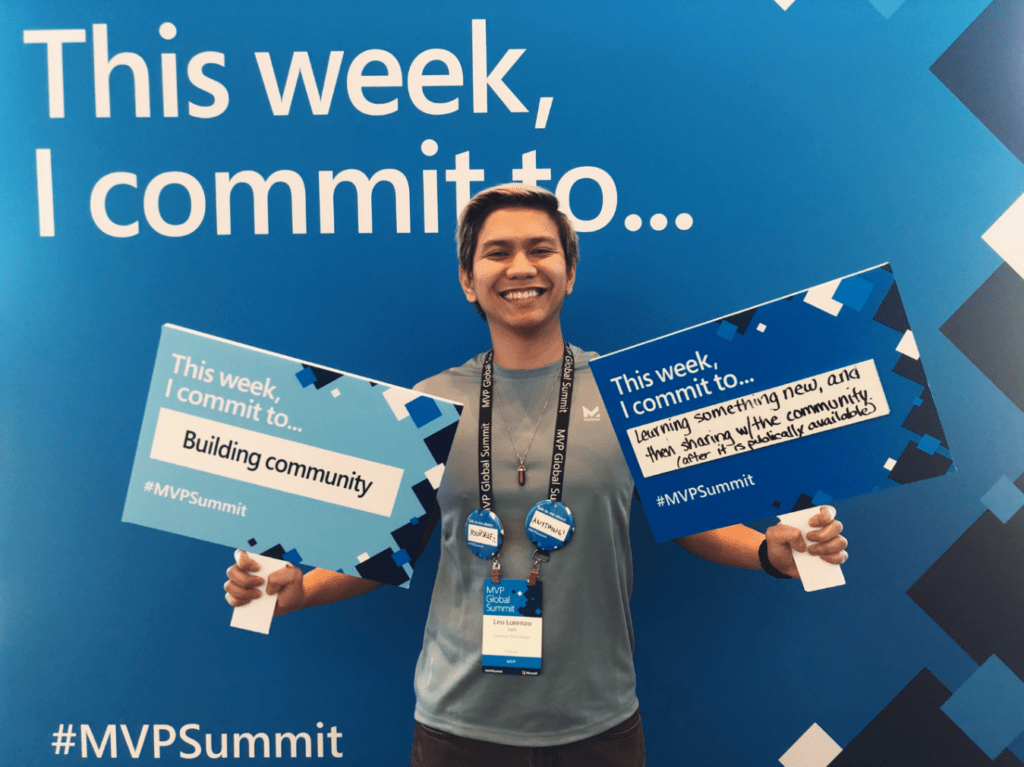 Jeff Teper, Corporate VP and Father of SharePoint

Eric Boyd, Corporate VP Azure AI

Leo and Scott Guthrie
By: Leo Luis
Each year around this time, Microsoft MVPs from around the world gather for an exclusive, invite-only, multi-day Microsoft MVP Summit. This year's event was hosted in Bellevue at Microsoft headquarters in Redmond, Washington. The MVP Global Summit featured an extensive agenda of in-depth technical discussions, feedback sessions, and networking opportunities with other fellow MVPs and Microsoft product groups.
The MVP Summit has been a great opportunity for me to meet the community superstars and Microsoft employees that I looked up to as a student in the Philippines. I have attended the summit for eight consecutive years, and every year was a great experience. This time was no different!
Attending the Summit is like running in a marathon– it is a constant stream of sessions that borders on information overload. It's afforded me the opportunity to hear from different product groups on Microsoft's future direction. It also provides an opportunity for me to give individual feedback that could potentially influence Microsoft's future strategic decisions.
The MVP Summit acts as a refresher for me every year. When I get back, I'm pumped and excited to do epic work; it's like my mojo is back. The Summit strengthens my decision-making skills and provides lots of practical advice that I can use every day. Although, most of the things I learned over the week are confidential and cannot be shared until they are made public, I can share with you one huge takeaway from this experience.
Career Advice
Fortunately, one of the things I can share is a piece of advice from Scott Guthrie, the Executive Vice President of the Cloud and Enterprise group at Microsoft. The following question was asked and below is his paraphrased response:
Are you seeing a trend for developers to be specialist versus generalist? Is it becoming impossible to know enough with technology changing at such a rapid pace?
"I'd recommend people be generalists in a sense where they need to know how all the pieces fit together, whether it's Azure or Amazon or other technologies. Know what a NoSQL database is and relational database and the pros and cons of each. Understand the foundational capabilities, then pick a couple of areas and do a deep dive to become a specialist. If you're just sort of an inch deep into a thousand things, that might not be enough to do anything. But if you can at least understand development broadly and then go deep in a specific area that would be my recommendation."
Since I began attending the summit eight years ago, I've made it a point to attend sessions outside of my expertise to grow as a software engineer. I've attended session on leadership, community, diversion and inclusion, office products, business intelligence, databases, security, networking, DevOps, cloud and mobile computing, blockchain, artificial intelligence, and much more. It has been beneficial to get a basic level of understanding to see how all the moving pieces fit together day to day. Understanding key concepts, whether they are soft skills or technical skills, has greatly influenced my thought process.
It was very exciting to hear about the emerging capabilities of Azure platform, particularly in Cognitive Artificial Intelligence and how that aligns closely with some of my work at Pyramid Labs. I envision our Labs work will greatly help us to do more than just modernize in Federal Government spaces – enabling us to expand our scope and build evolutionary capabilities that our customers have yet to envision or think would be possible.
Copyright © 2019 Pyramid Systems, Inc.