While your government IT contractors may compete in the real world, when engaged at your agency, they must collaborate to ensure the success of their interdependent projects. Even better, when contractors unite behind your mission (not just their projects), their success can have a much larger impact.
Here are five best practices for fostering collaboration across your IT contractors.
Seek out opportunities for sharing. Pay attention to what's working. Encourage contractors to identify opportunities for something bigger to happen.
When our team initiated the first agile development project at one government agency, collaboration evolved naturally. Employees outside the project came to see what was happening. Then, the client invited more employees and contractors to attend our Scrum meetings. We were able to share agile best practices while meeting our delivery schedule.
Following the project's success, the agency mandated an agile development approach across its enterprise – building on the knowledge shared during our project for successful adoption.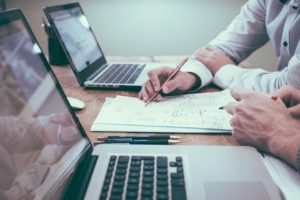 Own communication channels. Make your agency's communication channels visible. Then, insist that communications go through you, to ensure visibility and coordination.
As the client, only you have the authority to direct project teams and their work. Only you have the full perspective across projects. To get the most out of each project – and your overall program – be sure that you are at the center of cross-contractor communications.
Facilitate complex hand-offs. When interdependent projects are running on different cycles, find an employee or contractor to monitor dependencies and coordinate hand-offs across projects.
At one government client site, we built a system that interacted with several other systems to authenticate and authorize access. Three other groups were involved, creating multiple inter-dependencies for progress – all on different schedules. To facilitate coordination, we built a virtual project with its own, separate project manager. This structure allowed us all to report on what was happening and allowed our government client to keep things moving forward when different teams faced competing interests.
Mind each contract. Each of your contractors has commitments to you. Work with them to ensure that collaboration fits within tight project timelines.
The reality of government IT contracting is that each contractor is responsible for some slice of their client's needs. While collaboration at some level is essential, it's important to track successful delivery of each project, to ensure positive impact across your program.
Keep your mission a top priority. We're all here to enable the mission and ensure that it happens in a secure, accurate, and timely manner. When deciding among competing priorities, your mission always wins.
Sometimes, a new best practice helps to force a needed evolution. By creating an environment that fosters collaboration, you spark fresh ideas that help you to be nimble and efficient in the face of a changing economy, legislation and broader operating environment.
---
Mike Shields, Pyramid's chief solutions architect, oversees the translation of client business requirements into the architecture for those solutions, ensuring the most appropriate technology selection. He also serves on Pyramid's executive team, lending a technical expertise to strategic business decisions.
---
Media Inquiries
Email: info@pyramidsystems.com