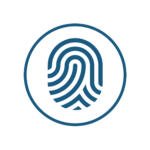 BETTER MANAGEMENT OF MILLIONS OF BIOMETRIC DATA IS POSSIBLE
Many law enforcement agencies are challenged with managing complex and large biometric data sets. Using multiple biometric modalities, such as fingerprints, photos, and voice for millions of records requires massive amounts of storage and processing power. Having a modern biometric database that provides excellent performance, search, sharing, and security capabilities is critical to meet mission goals.
Let us help. We can streamline the entire management lifecycle from capture to search to storage for more reliable authentication.
Using biometric data with a high degree of accuracy and precision is critical. Our approach streamlines the entire lifecycle from capture and ingestion of biometric data to storage, search and discovery, and information exchange. We leverage mature software automation, data encryption, and efficient storage techniques.
We engineer faster processing, improved search, better overall security, and safe integration of systems to exchange biometric data. Our talented technologists are experienced in implementing and modernizing mission-critical biometric systems in the cloud and on-premise. Our services include:
Modernization Strategy and Planning

Architecture, Engineering, and Prototyping

Agile Development and Implementation

Cloud Migration and Transition

Mainframe, SharePoint, Oracle Fusion Middleware, and Legacy System Modernization
Multi-modal Biometrics Management

Biometric Hardware Integration
Secure and efficient biometric data sharing

Faster detection of fraud or criminal activities

Accelerate adjudication of investigative cases
Our client conducts hundreds of audits each month and needed a solution to support the secure transfer of Personally Identifiable Information (PII) and other sensitive financial data in the cloud. Our agile team developed a working prototype in just eight days, saving the client millions. The solution was named by the agency as one of its top "2018 Innovations in Action." Learn why…