Does Pyramid just develop software? Or does the company manage and modernize legacy systems?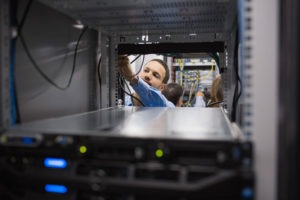 Pyramid is a big believer in finding and using the right tools to solve business issues. Many times, the right tool is one that exists already. It could be legacy software that needs a facelift such as a thin web client so users can more intuitively navigate the system, or a current application on an older technology stack that needs to be updated to avoid obsolescence. Sometimes, systems that work perfectly well now just need to be integrated with others or simply maintained to ensure that they continue to be valuable to the client.
We understand the tremendous value in many legacy systems and we've built a wealth of operations & maintenance (O&M) experience. We strive to assist clients in bringing out the best in their systems, to advance a mission and position the organization for continuous improvement.

Our O&M expertise includes:
---
System Modernization
The aim of legacy system modernization is to harness the value of a legacy investment by migrating to a new platform, updating to a new language, improving embedded protocols, or otherwise transforming the application to integrate technically relevant advancements. The modernized system performs better today and, ideally, is well positioned for the future.
For mission-critical legacy systems, which are relied upon daily for organizations to conduct their businesses, service interruptions are not an option. All systems must function throughout the modernization effort.
At Pyramid, we've earned a reputation for successfully completing system cut-overs, enhancements and major releases with no interruption or application degradation. If you're looking to modernize your legacy system, our team has the expertise and integrity to exceed client expectations.

As part of a system modernization project, Pyramid was asked by a customer to re-engineer an internal website using the Oracle Fusion Middleware that was already installed by the agency. Previous contractors had been unsuccessful in doing so. We introduced our process methodology and the best of standard industry practices to help ensure that what we were going to build on the technology stack would be successful. It was. The client was impressed and asked that we share our solution with other vendors who were working on related projects in the client environment, to maximize impact of the solution.
System Integration
Does Pyramid handle System Integration? How about Systems Integration?
That one little "s" at the end of "System" is a subtle but important distinction in the technology integration world. System (no "s") Integration focuses on bringing together components' subsystems into one useful system that operates as a single system. Systems (with the "s") Integration cares about linking multiple systems to achieve a coordinated effort across systems.
Clearly, both are important. Today, it's rare to have single mission-critical applications that operate well on their own in a government agency or enterprise environment. Instead, most such "systems" are made up of multiple subsystems AND linked to multiple other systems within and beyond the organization's own environment.
Pyramid has extensive experience with both. We've built, re-engineered, and maintained systems and subsystems that absolutely, positively must work well together all the time. If your system needs integration, let us know. Our team is ready, willing, and able to help!

For one client example of system – and systems – integration, read our HUD success story.
---
Maintenance & Support
Once you have your software applications right where you want them, all that's left is to make sure they work all the time, the way you need them to work.
As part of our commitment to support the full software lifecycle, Pyramid has assembled outstanding maintenance and support qualifications. We routinely deliver corrective maintenance, database administration, product release support, and issue resolution to clients. We're proud to serve as an extension to your team and ensure that your systems are there when you need them, all the time.
What about our team? To best serve your team, we reply on our delivery experts, an unmatched leadership team and proven technology partners.