What technologies should we invest in? How do we right-size our technology portfolio? How can technology help us improve our key business process?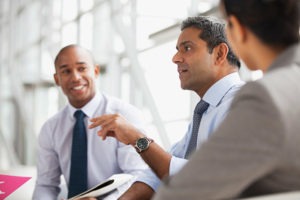 When it comes to helping our clients plan ahead and continuously improve, we provide high value and high impact IT-centric advisory services that help our customers achieve quality objectives and satisfy external requirements.
Pyramid's IT Strategy & Planning experience includes:
"Every agency has a different mission. Mission-critical for one is not the same as for another. Regardless, these are systems that have to work. They have a specific purpose. They're used every day by hundreds if not thousands of people. If they go down, that part of the agency can't do its job."

– Mark M., Business Development
IT Portfolio Planning
With the dynamic evolution of technology, it can be hard to keep up with advancements. Which ones are fads? What are the trends? When do we need to act?

Pyramid's IT Portfolio Planning services help organizations review their full spectrum of technical tools and analyze their portfolio against the business and mission needs. We make recommendations about what to modernize or when to introduce a better tool, based on where the industry is going. We want to make sure you're not relying on something that will be obsolete in a year.
Our team excels at creating roadmaps, showing where and when to invest to make sure you stay ahead of the technology curve, not rushing to catch up.
---
Business Process Re-engineering (BPR)
When organizations start to re-engineer software, it's only natural to entertain discussions about improving business processes, as well. In truth, many process improvements can be supported by inserting a better software tool to help reduce the number of steps in a business process.
Need help re-engineering your software? Or your business processes? Our team has helped clients many times before. We'd be happy to lead with best practices from what we've learned.
---
Governance and PMO Support
Our governance services through Pyramid's Program Management Office apply leading governance management principles to improve operational project performance.
Program, Portfolio, and Risk Management
Capital Planning and Financial Management