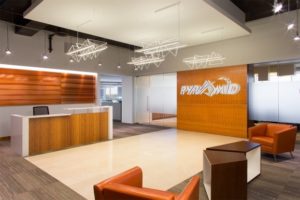 The Pyramid culture is unique. You'll feel it the moment you meet us. When you meet our team, you'll be impressed. When you meet more of us, you'll be more intrigued. If you meet still more, you'll be captivated and won't be able to stop yourself from joining us!

Keep reading to learn more!
What's it (really) like to work at Pyramid?
We are enablers. We partner with our clients to ensure American prosperity. We commit to our employees with focus, inspiration and motivation – and by investing in their passion and careers. We live in harmony, share values and hold one another accountable. We deliver on our promises as a team. We celebrate. We are respectful. We like one another and we have fun!

When looking for our next talent, we first look at current employees. Those who demonstrate a commitment to company objectives, a willingness to learn and the talent to continuously contribute to the value of the company. We want them to take on new challenges and new responsibilities. It's a win-win.
"The Pyramid team is creative, inquisitive, and committed to change for a better tomorrow – this is contagious."

– Tyler K., Recruiting
What health and wellness benefits does Pyramid offer?
Pyramid encourages healthy life choices and we support the health and wellness of our employee community by offering robust:
Health, Dental, and Vision insurance – for preventative and urgent care
Life and Accidental Death insurance – to provide security for loved ones
Disability benefits – to support employees as they get back on their feet
Wellness incentive programs – to encourage healthy lifestyle decisions
Personal health assistant services – to provide support to employees navigating the healthcare system
Optional ancillary benefits – to support personal choices such as additional life insurance, dependent life insurance, and pet insurance
How does Pyramid help employees prepare for the future?
Pyramid proudly provides a work environment that promotes professional development. To help employees enjoy a challenging and rewarding career – while saving for future retirement – Pyramid offers:
401(k) benefits – with a company match for qualified contributions
Education assistance – to help defray the cost of continuing education and college study in job-related areas; and to support professional certification and participation in industry conferences and events in subject matter expertise
Distance learning – to help develop and maintain technical and managerial skills. Accessible 24×7 from the office or remote locations
Employee referral bonus program – to reward employees for identifying people just like them, to continue to foster a talented, committed work environment
Does Pyramid support work/life balance?
Pyramid is a big believer in the value of work/life balance. To be the best employees we can be, we all need people and passions outside of work to enrich our lives. Pyramid offers these benefits that support work/life balance:
Paid time off – 10 federal holidays, personal leave and sick leave, so employees have the time they need to take care of life beyond work
Commuter benefits – to ease the burdens of a daily commute to work
Flexible spending accounts – to reduce the costs of qualified health care and dependent care expenses
Community involvement incentives – to support employees, Pyramid bolsters employee contributions and participates personally in support of many worthy causes
Diversity programs – as part of our commitment to providing a rich and diverse work environment that cultivates the best from a variety of backgrounds and experiences
Employee discounts – for family fun and relaxation reduced costs to health clubs, sporting events, theater, theme parks, and a wealth of products
Awards and recognition – to recognize the impact individuals have on Pyramid's long-term success
Is Pyramid a good fit for me?
If you're looking for a workplace that's invested in the growth of its people; that offers a dynamic environment where you can evolve yourself; that encourages you to connect using Slack, Confluence, and GitHub; and, yes, that loves food trucks, lunchtime potlucks, happy hours and movie nights in the office . . . you may just have found it!
Check out our current openings now, to see if we're looking for you!