Quality. It's Not Just About Development Anymore.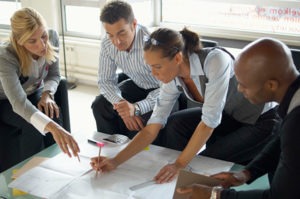 Quality assurance for software development is a long-established and valuable discipline. But Quality has a much larger role to play in successful software solutions, encompassing not just code development but also the processes and procedures that guide every project.
Pyramid is committed to incorporating Quality at every stage of the software lifecycle – from analyzing business needs and designing solutions requirements; through development, deployment and integration; to ongoing maintenance and support. We have adopted a proactive quality management approach, which improves results every step of the way and helps us achieve our goal of continuous improvement.
How does Pyramid Differentiate its Quality Approach?
Pyramid's independent Quality Management Group (QMG) audits and monitors project level quality. They facilitate the implementation, institutionalization and continual improvement of the processes we rely on across the company, ensuring they continue to reflect current best practices, and are followed by every Pyramid project.
How is Quality Integrated into Pyramid Projects?
Quality activities are embedded in our solutions development process from start to finish ensuring issues are identified and corrected in real time, accelerating application development and reducing costs.
Peer Reviews are conducted in each phase to ensure defects are discovered early in the process when they are less costly to fix. Pair programming, code reviews and test-driven development are common practices in projects here at Pyramid.
Quality Process Audits and Product Reviews are routinely conducted to ensure compliance with Pyramid's defined and proven processes. Whether monitoring risks, tracking requirements, or collecting test data, our process audits ensure projects stay on track with our proven best practices through release and beyond.
We don't stop (or start!) there.
User Experience (UX). We have adopted a human-centered design approach, which considers the entire user experience and identifies what will be useful to the people who need to use the solution in order to inform development efforts.
Code Quality. Beyond the technical quality of the solution, we pay attention to the long-term ease of updating, maintaining and scaling the code, establishing a solid foundation that reduces future risks. The result is a more flexible, agile stance – so we can continuously improve on projects as we go.
Why does Pyramid put so much Emphasis on Quality?
Pyramid's QMG helps us to do what we do faster and better. Our proven methodology delivers predictable positive results. Our proactive stance on quality also helps ensure we continue to align with best practices as they evolve. In the end, our proactive quality stance helps us identify and solve issues long before they impact a client, leading to successful projects and high customer satisfaction.
"Following a well thought-out and architected quality management plan ultimately results in customer satisfaction."

– Simon G., COO
What Quality Credentials does Pyramid hold?
Pyramid is a CMMI-DEV Maturity Level 3-rated organization. We first achieved Level 3 in 2008 and have subsequently passed three re-appraisals in 2011, 2014, and 2017.
Pyramid also achieved the International Standards Organization (ISO) 27001:2013 certification for its Information Security Management System, the ISO 20000-1:2011 certification for its Service Management System, and the ISO 9001:2015 certification for its Quality Management System..
We align with the best practices of the Project Management Institute. All of our program managers are PMP certified.
Quality is a big part of everything we do. It's a part of every client engagement and every IT solution we deliver.