How to Hire Really Great People for a Great Culture

Which comes first? Really great people or a really great culture?
We asked ourselves that question recently, in the throes of a mass hiring effort for a new Government program. Our next new employees certainly need to have the skills required for the job. But we also want a fit with the Pyramid culture.
We know we have something special here. Great people founded Pyramid, sharing a vision for where they wanted the company to go. They brought in more great people who shared their values and the passion for serving customers well to create our culture of excellence. Over the years, the company has grown – always with a vision of what to accomplish next and a target culture to get us there. Today, Pyramid is filled with people who are great at what they do, enjoy doing it and consistently deliver top notch solutions to our customers.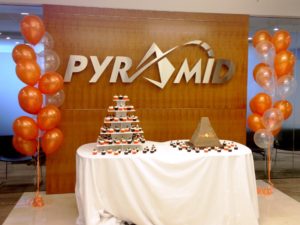 So which comes first? At Pyramid, people and culture are intertwined. With one eye on our target culture, we continually assess how that culture fits with the people we have. And we purposefully recruit and hire people who can grow with us. We assess job candidates for skill requirements as well as for culture fit.
Finding the perfect fit employee is as much a science as an art.
Our strong referral program supports valuable recommendations from employees and others who know what we expect from our people and all we have to offer. Our recruitment program works to identify other strong candidates. Whenever we interview prospective employees, we don't stop at assessing technical skills. We also use assessment tools to test a person's potential. And we check to see if the candidate is a good culture fit. Even if candidates don't have all the skills and experience required, we may invest in those who show potential to do great things and want to help the company succeed.
Nothing sharpens a hiring focus more than a new Government program.
Hiring to staff a new Government program is a huge task with a big deadline, sometimes hiring dozens of people within two or three months of a contract win. Everyone gets involved in the recruitment and onboarding processes. We host traditional town halls and incumbent capture events as efficient ways to find and communicate with candidates. Pyramid's leadership team makes it a priority to connect with the incumbent program leaders and to stay in touch throughout the transition, to ensure seamless service delivery to the Government client. Underlying the whole effort is our commitment to hiring not just for skills but for fit. Hiring fifty or more people at one time has a big impact on the company and the culture – and we know we need to get it right.
Whether we're hiring to deliver on a new contract or to fill a single requisition, we look for smart, hardworking professionals aligned with our company values. The best fit? People who want to be a part of building something special.
We're always on the lookout for strong candidates. Of course, Agile developers, SCRUM masters, testers and good strong program managers are always in demand. If you're someone with the right skills who wants to be part of something bigger than any one of us, let us know! We'd love to find our next great hire in you!
---
Will Dempsey, Pyramid's Director of Recruiting, oversees Pyramid's recruitment programs and hiring processes. Together, they recruit employees who celebrate and contribute to the company's unique culture and business objectives.
---
Media Inquiries
Email: info@pyramidsystems.com